Category Archives: Commercial carpets
Commercial Carpet – A Practical Guide to Making the Right Choice of Supplier
When it comes to commercial carpet suppliers there are many factors to consider when making your choice.  You may want a carpet that makes a style statement to potential customers the moment they set foot in your store or office.  On the other hand your top priority may be good quality and durability if the foot traffic within the commercial area is high.
To assist you in making the right choice for your needs and wishes we have compiled a checklist to follow when choosing commercial carpet.
How Much Foot Traffic?
Firstly calculate the foot traffic for the area.  Remember, if the area has high foot-traffic then paying a little extra for a higher quality of carpet at this stage, can save you a lot of expense in the long run.  Nobody wants to have to replace a commercial carpet after a short period of time due to the quality not matching the foot traffic!
Know Your Budget for Commercial Carpet
Whilst most companies would love to carpet every inch of their workplace with a luxury and stylish carpet, the business account may not match the wishes!  Decide how much you are able to spend on the carpet including the fitting and approximately how many years usage you want to get out of it.
How Stylish do you Want your Carpet to Be?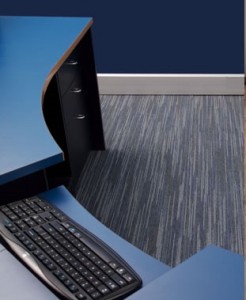 Some commercial carpets are fitted in stores or workplaces where style is everything. For example fashion retail stores, bars, restaurants or design agency offices. If this is the case for you then certainly it is vital to spend a considerable amount of time short-listing the available commercial carpeting to a few choices that will match your colour scheme, business style and budget.
Remember that a carpet can look very different on the roll in the carpet warehouse, compared to in your workplace.  When you have a shortlist ask for samples and take them to the area that will be carpeted so you can see it in situ.  Often one carpet stands out straight away as matching the existing decor, furniture and general style.
Make a Choice Regarding Underlay
Underlay is especially recommended for areas where there are steps, common places where people are on their feet for a considerable amount of time and situations where you wish to ensure temperature control and / or noise reduction.
The carpet installer that you choose to work with should be knowledgeable on the use of underlay and be able to advise you where you may benefit from it.  The installation company should also advise you that they will fit a commercial underlay and not a residential one.
Be Carpet Wise
In other words, know your carpets!  If you choose a polypropelene carpet then you are going for the budget choice.  This doesn't necessarily mean that it is of very low quality, in fact some of these types of commercial carpeting are designed well.  It must be noted however that in general the durability of a polypropelene carpet is significantly lower than that of a nylon carpet.
A nylon carpet may set you back a little more expense wise, however it is an excellent choice to give good durability for commercial use.  Nylon carpet tends to have good stain resistance and looks new for longer than a standard polypropelene carpet.
Care for Your Commercial Carpet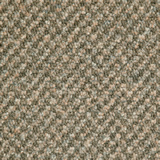 Once you have made a decision regarding your carpet and it has been installed in your workplace then be sure to learn how to maintain it.  The carpet installers should be able to give you a detailed plan on how to care for your chosen carpet and keep it looking new and in good quality for as long as possible.
There are many factors to take into account when it comes to choosing a commercial carpet. In Auckland or other parts of New Zealand, you can get some great advice from specialist commercial carpet suppliers. Companies such as Cadence and Carlisle are widely recognised as among the best commercial carpet wholesalers.  If you follow this practical guide and contact someone like Cadence (you can see some of their commercial carpets here), you should be well on your way to choosing a carpet that can meet all of your needs.